WordPress itself is a powerful and easy-to-use CMS. However, to have specific function you need, you will often need to install appropriate WordPress plugin. Let's say you want to build a slider, you may need to install the popular revolution slider, or you're optimizing SEO for website, you will be recommended to install and use Yoast plugin. They are all necessary add-ons to save you time coding new functions or to help you optimize your site easier.
Just as simple as installing WordPress, you can install WordPress plugin in few minutes in 2 common ways: search and install directly in WordPress dashboard or upload from outside into dashboard then install. Both method are pretty simple, it's up to you to choose the suitable one for different kind of plugin you need. Of course, before installing any plugin, you need to make sure the theme you use is compatible with the plugin and other technical requirement if any for each plugin you are going to install.
Install WordPress Plugin directly in dashboard
Right in WordPress admin panel, you can find a list of free plugins that are essential in some cases. The simplest way is to search for a plugin directly in dashboard, pick the one you need and install quickly.
From admin panel, navigate to Plugin>Add New
Here, you will see list of multiple free WordPress plugins. Make a search for the feature you need or a certain plugin name you want. There are some typical popular free WordPress plugins you can easily find such as Contact Form 7, the popular free contact form builder plugin, BuddyPress for social network, etc.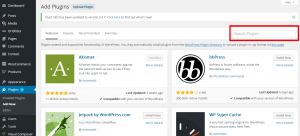 Click in the plugin you are looking for, you can get more information about its features, guide to install, technical requirement, change log, reviews etc. When you finally decide to install it, press "Install Now" button then the process will be automatically installed in finger tips. After installation completed, all you need to do is activating it and start to configure as you wish.
Upload from outside into dashboard
Another way to install WordPress plugin, especially for WordPress plugins from third party is to upload it to dashboard and then install normally. To upload plugins to dashboard, you can manually upload it or use FTP.
To manually upload a plugin, again you go to Plugins > Add new. Instead of searching, now you choose Upload Plugin. After that, you will have option to choose plugin file to upload. Simply navigate to the plugin installation file. It should be a .zip file with the appropriate size WordPress allows. Follow normal process to install and activate after the plugin is completely uploaded.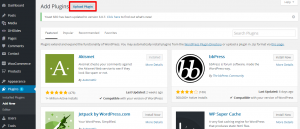 Besides uploading directly to WordPress dashboard, you can also upload via FTP software or cPanel in case you meet server restriction or error with the previous way. With this method, the only different thing is you have to unzip the plugin file and upload to folder wp-content/plugins. The rest steps are the same, you will find the plugin in admin panel > Plugins and activate it as usual.
Plugins play certain role in functioning your website. As you see, there are only several steps to install WordPress plugin. The important thing is to choose the right plugin that is compatible and most suitable for the feature you need.